| | | |
| --- | --- | --- |
| Lab Home page | Department of Microelectronic Systems, Faculty of Electronics, Telecommunications and Informatics, Gdansk University of Technology | |
LED display driver
Task: The main goal of this exercise is to develop sub-block of a circuit driving 4 digits of LED display for use in next lab exercises.
To check the functionality, the sub-block has to be embedded in a circuit enabling setting (with switches and buttons) and displaying on LED display of Spartan 3 board any hex number with decimal points.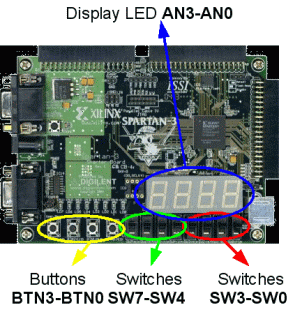 Fig. 1 Picture of Digilent Spartan 3 board




Fig. 2 Toplevel block diagram



To test the project, the circuit providing the following functionality must be added:

Switches SW3, SW2, SW1, SW0 set a 4-bit value.
After pressing BTN3, the value set with switches SW3-SW0 should be displayed on digit AN3 in hexadecimal radix. Similarly, the button BTN2 should work with AN2, BTN2 with AN1 and BTN0 with AN0. After pressing a button, the display should constantly show the value, until the next pressing of a button.
Switching of SW7 should highlight digital point DP of display AN3. Switching off SW7 should switch off digital point DP of display AN3. The same behaviour should also be for: SW6 -> DP AN2, SW5 -> DP AN1, SW4 -> DP AN0.

Basic block of display driver should have the following interface (will be used in next exercises):



Fig. 3 Display driver interface



Port description:
clk_i - 1 kHz input clock;
rst_i - asynchronous reset, active high '1'. In reset all segments of the display should lit (this functionality is not used in this exercise);
digit_i - 32-bit input, each bit corresponds to a single segment. (8 most significant bits are for AN3, etc.).

The display consists of four 7-segment LED displays. Corresponding segments in all LED displays AN3-AN0 are connected together, so multiplexing must be used to individually drive all the segments. To highlight a single segment, the proper ANx and the required segment A-G or DP must be driven with low signal '0'. To multiplex the signals, is advised to use 1kHz clock.



Fig. 4 Description of LED display connectors. Example of displaying digit '2'



In the design, a modified frequency divider from previous exercise must be inserted as component.

Write a testbench. If necessary, you can add a reset input port to simulate the circuit.

Before implementing the design, a simulation must be run using the testbench.

UCF file, Digilent Spartan-3, Spartan-3 3S200 FT256-4:
#########################################################################################
# Clock:
NET "clk_i" LOC = "T9" ; # 50 MHz clock
#########################################################################################

#########################################################################################
# Seven-segment LED display:
NET "led7_an_o<3>" LOC = "E13" ; # leftmost digit, active low
NET "led7_an_o<2>" LOC = "F14" ; # active low
NET "led7_an_o<1>" LOC = "G14" ; # active low
NET "led7_an_o<0>" LOC = "d14" ; # rightmost digit, active low
#
NET "led7_seg_o<7>" LOC = "E14" ; # segment 'a', active low
NET "led7_seg_o<6>" LOC = "G13" ; # segment 'b', active low
NET "led7_seg_o<5>" LOC = "N15" ; # segment 'c', active low
NET "led7_seg_o<4>" LOC = "P15" ; # segment 'd', active low
NET "led7_seg_o<3>" LOC = "R16" ; # segment 'e', active low
NET "led7_seg_o<2>" LOC = "F13" ; # segment 'f', active low
NET "led7_seg_o<1>" LOC = "N16" ; # segment 'g', active low
NET "led7_seg_o<0>" LOC = "P16" ; # segment 'dp', active low
#########################################################################################
#########################################################################################
# Slide switches:
# sw7 Sw6 sw5 sw4 sw3 sw2 sw1 sw0
NET "sw_i<0>" LOC = "F12" ; # active high when in UP position
NET "sw_i<1>" LOC = "G12" ; # active high when in UP position
NET "sw_i<2>" LOC = "H14" ; # active high when in UP position
NET "sw_i<3>" LOC = "H13" ; # active high when in UP position
NET "sw_i<4>" LOC = "J14" ; # active high when in UP position
NET "sw_i<5>" LOC = "J13" ; # active high when in UP position
NET "sw_i<6>" LOC = "K14" ; # active high when in UP position
NET "sw_i<7>" LOC = "K13" ; # active high when in UP position
#########################################################################################

#########################################################################################
# Push-buttons:
# @ @ @ @
# btn3 btn2 btn1 btn0
NET "btn_i<0>" LOC = "M13" ; # active high
NET "btn_i<1>" LOC = "M14" ; # active high
NET "btn_i<2>" LOC = "L13" ; # active high
NET "btn_i<3>" LOC = "L14" ; # active high
#########################################################################################